Sandpaper Incorporated of Illinois is a family owned and operated business founded in 1953.
We provide a comprehensive range of products from quality abrasive sources. Click here for a list
Sold nationwide, our quality products are geared for various industrial and individual users, including both metalworking and woodworking.
Check with us for current pricing and quick shipment (1 to 2 days) on any of our in-stock products.
Click on the appropriate abrasive product heading to view our current in-stock list.
Orders for special sizes and nonstock products can be entered and most will be shipped within 4 to 7 workdays.
Please call us about your abrasive product needs!
Or Email us!
Or fax us!
Or send us a request form electronically!
Terms available:
Credit Card
C.O.D.
Open an account
Click here for credit approval application form
Complete the form and return via fax or mail.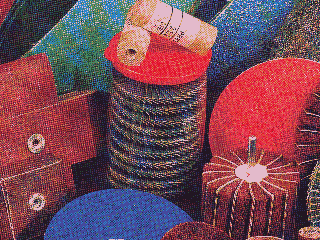 Click on the category for a list of current in-stock items
| | |
| --- | --- |
| | PORTABLE TOOL BELTS, PAPER BELTS, CLOTH BELTS, FLEXIBLE BELTS, BACKSTAND BELTS, WIDE BELTS, EDGE BELTS, STROKE BELTS, PUMP SLEEVE BELTS, SURFACE CONDITIONING BELTS |
| | ADHESIVE DISCS, ADHESIVE DISC/ROLLS, HOOK & LOOP DISCS, FIBRE DISCS, LOCKING DISCS, CLOTH DISCS, PAPER DISCS, VACUUM HOLE DISCS, SURFACE CONDITIONING DISCS, FLAP DISCS |
| | A/O CLOTH SHEETS, EMERY CLOTH SHEETS, CROCUS CLOTH SHEETS, GARNET PAPER SHEETS, A/O PAPER SHEETS, NON CLOG SHEETS, WATERPROOF SHEETS, SANDSCREEN SHEETS, ADHESIVE CLOTH SHEETS, SURFACE CONDITIONING SHEETS, DRYWALL DIECUT SHEETS, FLUTTER SHEETS |
| | BRIGHT BUFF HAND PADS, FLAP WHEELS, BELT CLEANING STICKS, ABRASIVE SPONGES, CARTRIDGE ROLLS, SLASHED ROLLS, HANDY ROLLS, NO LAP BANDS & DRUMS, TRIANGLES, SQUARE PADS/CROSS PADS, SURFACE CONDITIONING WHEELS , HAND BLOCK SANDERS |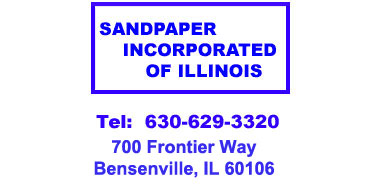 © 2003-2020 Sandpaper Incorporated of Illinois